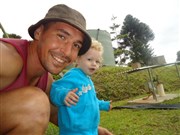 Peter English

Expires
Saturday, 10 January 2015
Pete's IMP Fundraising Challenge
I am participating in this event to raise crucial funds for Rob de Castella's Indigenous Marathon Project. The project annually unearths long distance running talent and uses the marathon as a tool to change lives. Young Indigenous men and women are given the opportunity to establish their own sense of self-worth by completing a marathon. Participants also complete a Cert IV in Health and Leisure to instill healthy lifestyle benefits back to their communities.
Please support me, and by doing so support this great cause.
THANK YOU


The Indigenous Marathon Project Foundation
The Indigenous Marathon Project was established in 2009 by World Marathon Champion and 1983 Australian of the year Robert de Castella. The project impacts positively on Indigenous communities Australia wide and creates community role models and local champions who influences change and promote active and healthy lifestyles for others. The project is expanding its operations within communities around the country while it looks to provide opportunity where it would otherwise not exist and your assistance directly helps us to do so.
FUNDOMETER
Target
$2,000
Raised So Far
$691
Biggest Supporters:
Ian Hodges: $100.00
Jarrod Harbrow: $100.00