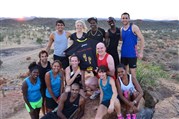 IMP

Expires
Saturday, 9 May 2015
Reconciliation Run for education
Come and be part of history in the first-ever Reconciliation Run! The event is a partnership between IMP and the Australian Government Department of Health as part of Reconciliation Week celebrations and we need your support.
There are 12 members in our 2014 squad. It is compulsory for each member to complete a Certificate IV in Leisure and Health - but we need your help.
Every $2,000 raised will cover the cost of one of our 2014 IMP squad members to complete their Certificate IV in Leisure and Health. There are many ways you can help - organise a collection at school or around the office, hold a cake stall, out of uniform day, or just make a one-off donation. Every dollar counts!
One thousand people; $2each - it's that simple. Come on the journey with us and help provide an education pathway for our inspiring runners.
THANK YOU


The Indigenous Marathon Project Foundation
The Indigenous Marathon Project was established in 2009 by World Marathon Champion and 1983 Australian of the year Robert de Castella. The project impacts positively on Indigenous communities Australia wide and creates community role models and local champions who influences change and promote active and healthy lifestyles for others. The project is expanding its operations within communities around the country while it looks to provide opportunity where it would otherwise not exist and your assistance directly helps us to do so.
Please make sure you are LOGGED IN. You can only join a Team Leader page if you are logged in and have an Individual page created. If you do, it will be displayed here once you've logged in. If you don't, please return to the 'home page' and follow instructions on how to create your Individual page.
FUNDOMETER
Target
$2,000
Raised So Far
$657
Target
$2,000
Raised So Far
$657
Team Members
My Total: $657
Team Total: $657.00
Biggest Supporters:
Simonetta Astolfi: $250.00
Matt Austin Electrician: $50.00